Borough News Article-Collecting Delinquent Real Estate Taxes-You Have Options
Please note that Portnoff Law Associates is a debt collector, and the purpose of this page is to facilitate our collection of unpaid obligations.
Portnoff Law Associates, Ltd. attorney Kevin H. Buraks, Esq. recently authored an article that was featured in the September 2018 edition of the Borough News. In this article, Kevin highlights the important options available to Pennsylvania municipalities for their delinquent tax collection needs. Click the below image to access a PDF copy of the article.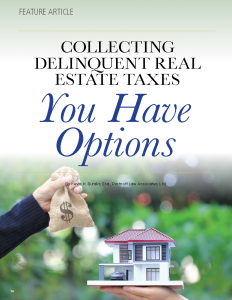 For more information on how Portnoff Law Associates can assist your municipality, please click here or call 866-211-9466.