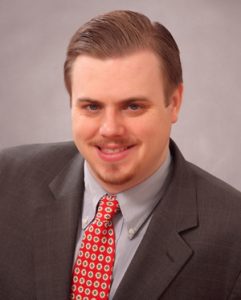 James R. Wood is a litigation and bankruptcy attorney at Portnoff Law Associates.  As a member of the litigation department, he represents school districts and municipalities in contested cases before the Court of Common Pleas and the Commonwealth Court.  As a member of the bankruptcy department, he manages cases where a property owner has declared bankruptcy, and appears before the bankruptcy courts for the Eastern, Middle and Western District of Pennsylvania.
He grew up in Radnor Township, Pennsylvania, and graduated from Radnor High School in 2003.  He received his B.A. from the University of Delaware in 2007.  He was a member of his high school and college marching bands.  He received his J.D. from Villanova University's Charles Widger School of Law in 2010.  While in law school, he interned with the Montgomery County Public Defender's Office.
He was admitted to the bar of Pennsylvania in 2010, and joined Portnoff Law Associates in December of that year.  He is a member of the Montgomery County Bar Association, and serves on the Bankruptcy/Creditors and Debtors Rights Committee.